WordPress database error: [Can't create/write to file '/tmp/#sql_7ec_0.MYI' (Errcode: 28)]
SELECT t.*, tt.*, tr.object_id FROM wp_terms AS t INNER JOIN wp_term_taxonomy AS tt ON t.term_id = tt.term_id INNER JOIN wp_term_relationships AS tr ON tr.term_taxonomy_id = tt.term_taxonomy_id WHERE tt.taxonomy IN ('category', 'post_tag', 'post_format') AND tr.object_id IN (8482, 8521) ORDER BY t.name ASC

Drought, climate change, population growth, urban-industrial development and aging water assets impact the availability of the essential resource: "WATER". Water supply and sanitation projects are an integral part of a nation's infrastructure and strongly influence many aspects of planning and development.
We provide all the necessary engineering services relating to the development and operation of these water assets, having a broad proficiency in hydraulic engineering.
We consider water implications across the entire development cycle, providing a complete perspective to enable efficient and effective designs. We identify issues in the early stages to optimize usage, spatial and master planning, delivering sustainable long-term solutions for communities.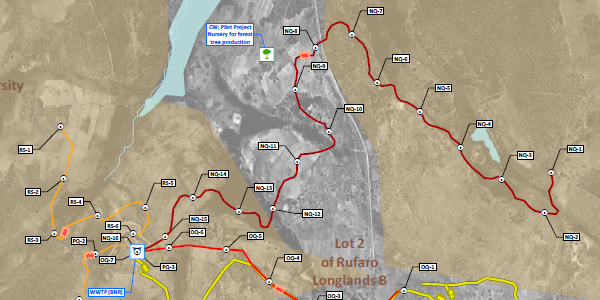 An African Development Bank-Global Water Partnership Project: Marondera integrated urban water management Master Plan project. Zimbabwe. STORM WATER MANAGEMENT & URBAN DRAINAGE
Urban storm rainfall
runoff modelling
Storm water network
modelling and design
Rehabilitation and expansion
of storm drainage systems
Untegrated urban drainage
and resilient urban upgrading
Sustainable Drainage Systems (SuDS) SEWERAGES & WASTEWATER TREATMENT PLANTS
WW networks modelling and
design including
the appurtenance structure
WWTP modelling
and design
Ponds and wetlands
design for
water treatment
Cost planning,
estimating and
budgeting, O&M WATER SUPPLY NETWORKS & WATER TREATMENT PLANTS
WS networks design,
WTP modelling and design
Non-Revenue Water assessment & management
WS systems energy-cost optimisation
Infrastructure management, O&M
Investment programming and implementation INTEGRATED SOLUTIONS
Sludge management
as new resource
Effluent reuse in agriculture
irrigation and industrial activities
Have a look at our latter projects
The Fucino catchment (862 km²) is located to the east of Rome and is an important agricultural area for horticulture, cereals and fodder crops. The area has supported highly productive agricultural systems based on an abstraction of surface water and groundwater from public and private wells and a large system of irrigation and drainage canals. Over the last 20 years [...]
In the last decades, the intensive urbanisation of Dakar City, has determined several problems related with water resources management. In particular the hydraulic risk of the peri-urban areas called "le banlieux" has notably increased with catastrophic effects. In fact, since the 2005, the area has been subject to many floods that have caused serious damages and economic losses. In this [...]